C.I.C. INTERNATIONAL ASSOCIATION
the c.i.c., international non-profit association aims to promote a hugh interaction between
artists, scientists, philosophers and the environment.

left : MUZE'UM L foreground : archeologic site

right : villa eksternest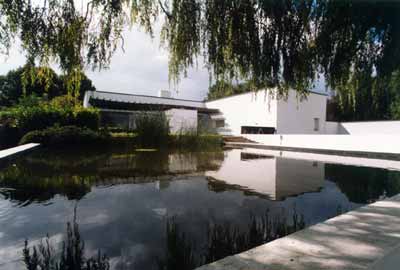 villa eksternest (head office CIC), perched on a hill with a panoramic view,
built by modernist arch. huib hoste 1945 and christiaan vanderplaetse 1963,
has been known as a centre for artistic integration since 1990.
1. MUZE'UM L LIGHT & LANDSCAPE
in the context of the new afforestation plans for the region, c.i.c. aims to establish
a large view at the top of the zilverberg making an attractive venue for walkers, nature lovers and art lovers.
a willow avenue leads to the archeological site zilverberg.
an observation point will provide a panoramic view from altitude on the land
& the art experiments in the landscape.
proposal MUZE' UM L by architect marc van schuylenbergh

MUZE'UM L: LIGHT & LANDSCAPE
wil be a site to experience light and landscape with all the senses:
the building and the surrounding landscape will be split into east and west on the sunlight apogee,
creating so a light meridian.
the sunlight shining perpendicular to this meridian at approx 1:45 p.m. ( at 0:45 p.m. in winter) on this spot,
will not be visually impaired. this shadowless light effect will be amplified by an architectural split.
MUZE'UM L: A PLACE OF AND FOR MUZES.
the muze' um L is flexibly worked out to create a fresh contemporary and functional framework for
- research that has to do with light and landscape.
- exhibitions and meetings, musical performances and all kinds of artistic experiments.
CALL FOR artists in all disciplines, technicians, nature lovers, herbalists, everyone who loves beauty and intelligence
estimated opening in autumn 2014
BERGSTRAAT 23
ZILVERBERG
8800 ROESELARE
architect: marc van schuylenberg
2. the international creative encounters LEVKA ORI, crete
every year, the c.i.c. organizes with levka ori org interdisciplinary encounters in crete,
where a topic is developed jointly by all the participants in the context of the natural surroundings.
topic 2014: the 19th edition is dedicated to
" LINES ON MAGNESIA " one of the most universal topics for all art disciplines. lines may be horizontal or vertical, straight or curved, geometric or not, materialized or spiritual
the c.i.c. is the permanent organizer of the exibitions in art o nivo, wollestraat 25, bruges, where the emphasis is
on showing art works under a joint topic.
this year the topic is 'ART & ARCHITECTURE RANDOM', where glass, photography, graphics and architecture go together
, each contributing to the generall atmosphere.
the centre enjoys the support of the ministry of the flemish community, world crafts council belgique francophone, le musée-atelier du verre, sars-poteries (fr) and some embassies e.g. of france and the netherlands