---
ARTONIVO
'ET FIAT LUX'
last exhibition on 'LIGHT'
glass artists: perrin & perrin -fr
photographer: danika o.kus - si
graphic artist: lien baert - be
haiku writer: ferre denis - be
C.I.C. INTERNATIONAL ASSOCIATION
the c.i.c., international non-profit association aims to promote an international interaction between
artists, scientists and philosophers and the environment.

left : MUZE' UM L foreground : archeologic site

right : villa eksternest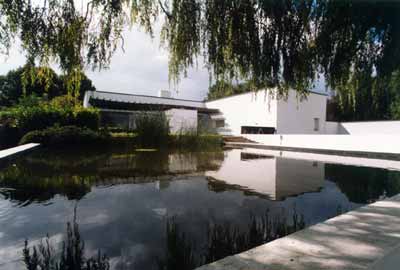 villa eksternest (head office CIC), perched on a hill with a panoramic view,
built by modernist arch. huib hoste 1945 and christiaan vanderplaetse 1963,
has been known as a centre for artistic integration since 1990.
1. MUZE' UM L LIGHT & LANDSCAPE
in the context of the new afforestation plans for the region, c.i.c. aims to establish
a large view at the top of the zilverberg making an attractive venue for walkers, nature lovers and art lovers.
a willow avenue leads to the archeological site zilverberg.
an observation point will provide a panoramic view from altitude on the land
& the art experiments in the landscape.
proposal MUZE' UM L by architect marc van schuylenbergh

MUZE'UM L: LIGHT & LANDSCAPE
wil be a site to experience light and landscape with all the senses:
the building and the surrounding landscape will be split into east and west on the sunlight apogee,
creating so a light meridian.
the sunlight shining perpendicular to this meridian at approx 1:45 p.m. ( at 0:45 p.m. in winter) on this spot,
will not be visually impaired. this shadowless light effect will be amplified by an architectural split.
MUZE' UM L: A PLACE OF AND FOR MUZES.
the muze' um L is flexibly worked out to create a fresh contemporary and functional framework for
- research that has to do with light and landscape.
- exhibitions and meetings, musical performances and all kinds of artistic experiments.
estimated opening in summer 2014
MUZE' UM L: prior study
architect: marc van schuylenberg
2. the international creative encounters LEVKA ORI, crete
every year, the c.i.c. organizes with levka ori org interdisciplinary encounters in crete,
where a topic is developed jointly by all the participants in the context of the natural surroundings.
topic 2013: the 18th edition is dedicated to 'NEW EARTH-SKY RESONANCES'
how to use the magnesia site's own resonance to create harmony.
the c.i.c. is the permanent organizer of the exibitions in art o nivo, wollestraat 25, bruges, where the emphasis is
on showing art works under a joint topic.
this year the topic is 'ART & ARCHITECTURE RANDOM', where glass, photography, graphics and architecture go together
, each contributing to the generall atmosphere.
the centre enjoys the support of the ministry of the flemish community, world crafts council belgique francophone, le musée-atelier du verre, sars-poteries (fr) and some embassies e.g. of france and the netherlands