't eksternest is part of c.i.c., an international non-profit association which aims to promote interaction between artists on an international level.

perched on a hill with a panoramic view, 't eksternest (arch. huib hoste 1945 and christiaan vanderplaetse 1963) has been known as a centre for artistic integration since 1990.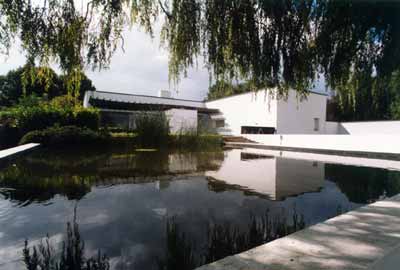 in the context of possible afforestation plans for the region, 't eksternest aims to establish a haven of peace at the top of the zilverberg. this would be a place where walkers can enjoy a view of the town of roeselare in the distance, and rest or stroll through a statue garden. we are presently working out plans to present sculptures in symbiosis with the setting, using experimental landscaping and land art, to make the place an attractive venue for walkers, nature lovers and art lovers.

we have already contacted the municipal authorities of roeselare, including the arts council, arts centre and the alderman responsible for the arts, to discuss modalities.


creative encounters
every year, the c.i.c. holds an interdisciplinary artistic workshop in crete, where a work of art is designed and created jointly by all the participants in the context of the natural surroundings.


organizer of "artonivo, a room for art", bruges
the c.i.c. organizes exhibitions as well as land art experiments. it is the permanent organizer of the exhibitions in artonivo , wollestraat 25, bruges, where the emphasis is on showing art works in the less well known disciplines such as calligraphy, photography, graphics (lithographs and engravings), and glass and ceramic objects.
for each exhibition, artists in different disciplines are invited to exhibit together under a joint theme or title.


support
the centre enjoys the support of the ministry of the flemish community, vizo, and some embassies e.g. of france and the netherlands.